It happens to be an appropriate day of the year to share this short and elegant puzzle game: Traal by Alan Hazelden and Jonathan Wighting. (Also, if you like difficult elegant puzzle games, check out Alan Hazelden's page. A Good Snowman Is Hard To Build is probably one of my favorite puzzle games on Steam.)
Actually, the reason I'm posting isn't just to share some cool puzzle games; it's because I googled for the deciphered texts of the scrolls in Traal, and couldn't find anyone who had posted them. So, here they are (spoilers below).
There are 11 scrolls in the game. Here is what a scroll looks like: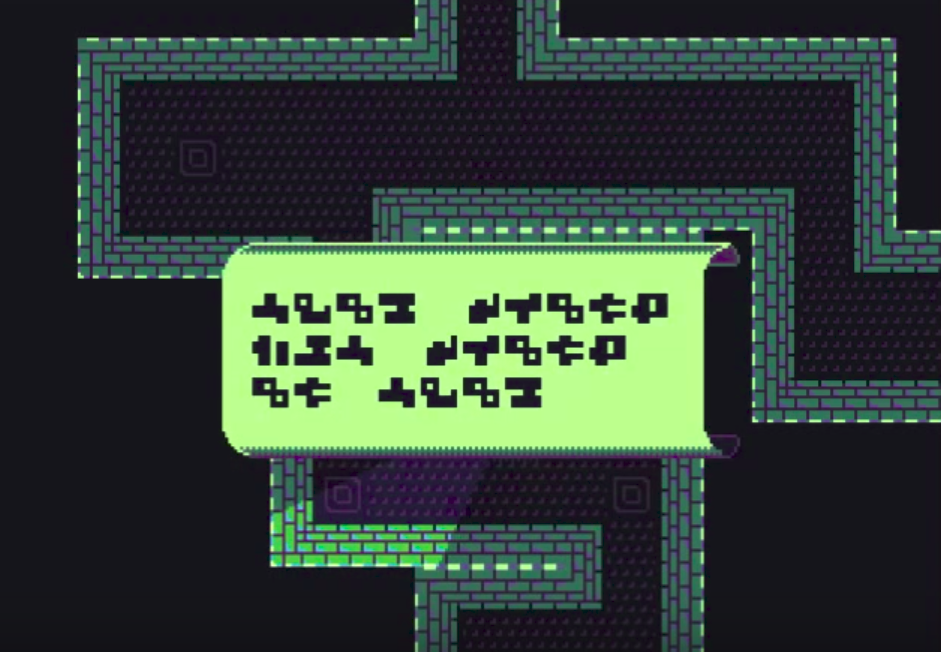 Deciphered Scroll Messages
Spoiler:

1. THE LAST PERSON TO FIND THIS WAS IMPALED WHILE GETTING OUT.

2. BEWARE STRANGER THIS IS AN EVIL PLACE NO GOOD WILL HAPPEN HERE.

3. ONLY A FOOL WOULD SUFFER GREAT DANGER FOR LITTLE GAIN.

4. THESE SCROLLS WILL NOT HELP YOU THEY EXIST FOR MY AMUSEMENT ALONE.

5. SOMETIMES ONE WILL SEE MORE WHEN ONE ONLY LOOKS AHEAD.

6. BROKEN GLASS CUTS DEEP AND NOTHING HERE CAN FIX IT.

7. THREE WISE EYES SEE NO EVIL SEE NO EVIL AND SEE NO EVIL.

8. EVIL TWINS ARE TWINS IN EVIL.

9. WHEN ALL EVIL FACES YOU WEAR ONLY DARKNESS.

10. AN END AWAITS YOU BEYOND HERE BUT IT IS NOT A PRETTY ONE.

11. WHATEVER YOU DO DO NOT COLLECT ALL OF THESE SCROLLS A TERRIBLE FATE AWAITS.

All of the messages are related directly to the rooms they are in, except for scrolls 2 and 4:

1. This is the scroll hidden behind the fake spikes and spike maze. Hence the (accurate) message about getting impaled on the way out.

3. This is the scroll in the optional side room. Hence, "great danger for little gain".

5. This is in the crossroads room that you can get through by only walking ahead.

6. This scroll is blocked behind a bunch of glass that you have to break.

7. This is in the room with three mushroom-shaped enemies ("three wise eyes")

8. This is in the room with two mushroom-shaped enemies ("twins").

9: This is in the room that requires a blindfold to get past (blindfold = "wear only darkness").

10 and 11: These two are in the room just before the end, so they warn you about your fate.

The scrolls are just cryptograms (each English letter is represented as a certain symbol). So you can solve them with an online cryptogram solver, but the time-consuming part is reading the symbols and writing down an arbitrary letter for each symbol, so that you can input that into a solver. Also, the words on the scrolls wrap from one line to the next, so you have to figure out which line breaks to remove.